The resources offered here include a range of interactive activities to help with
movement
body awareness and proprioception
sensory integration
musical play and expression
social interaction
communication and language development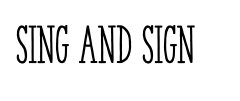 My speech and language colleagues Toni and Gwyneth have joined me to sign along to some of my songs. Here are the videos if you would like to practise some signing.
Here are a few additional video resources to practice signing and singing along with songs.
This way to some animal songs!
Walking through the jungle